BIPOC Design History

OVERVIEW
BIPOC Design History is an educational platform, which offers a series of live and previously recorded design history classes, facilitated by Polymode.

Through recorded lectures, readings, and discussions, the class sheds light on moments of oppression and visibility.
ROLE
Product Design
Video Production
Marketing & Operations
Instructional Design

IMPACT
generating ~500k USD in revenue with over 2000 students

TOOLS
figma
Adobe Premier Pro
Adobe After Effects
HTML/CSS
cargo, Stripe Commerce
Revisiting and rewriting the course of design history in a way that centers previously marginalized designers, cultural figures.
THE PROBLEM

There isn't a defined way for people to experience graphic design history in a non eurocentric context.
APPROACH
This project builds a product, facilitates its sale in an equitable manner and fosters community across borders.
---

DESIGN CHALLENGE

How might we build a platform to facilitate a community and culture that reflects an expansive design history?




TEASER REEL
1920 x 1080
2021

POETIC RESEARCH

Understanding the scope of education platforms online.

Black Design in America class topics include the ancient origins of African alphabets, innovative mathematics in African architecture, systemic racism of the transatlantic slave trade, W.E.B. Du Bois's innovative information diagrams in 1900, the aesthetics of Eugenics and its science of racial profiling, the Harlem Renaissance and other queer Blackness, the grassroots network of Victor Hugo Green's Motorists books, urgent Civil Rights protest movements, the rise of hip hop's graphic language, histories of Black liberation from Afrofuturism to the Black Lives Matter movement, and methodologies of Black design education.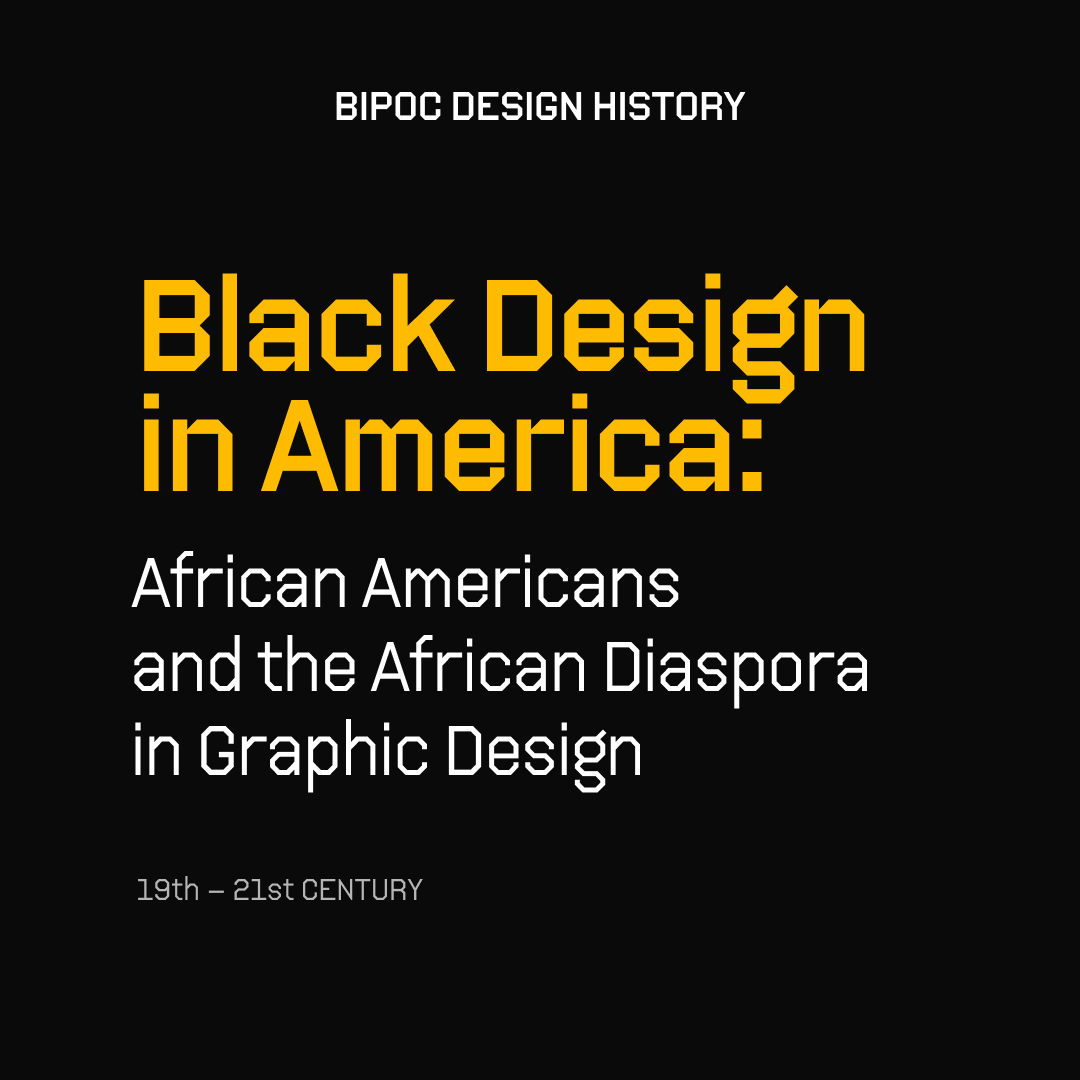 SOLUTION: AESTHETICS

I developed a design language that shares the philosophy of the course through aesthetics.

I did this by using custom typefaces such as Ancho and VTC Dubois, developed by BIPOC creators. The construction of both of these typefaces is deeply rooted in the cultures the course venerates through its curriculum. The flexible identity maintains room for expansion.

SOLUTION:
PRODUCT
BIPOC Design History creates a learning environment that flattens the existing American economic hierarchy of higher education by offering sliding scale tuition, scholarships, and free lectures.
This economic model created a diverse and accessible community
of over 2000 students with access to previously unexplored knowledge in the existing graphic design system. Our participants ranged from design students in their 20s to educators and professional designers, and industry leaders in their 60s. The students attended from all around the globe, representing a wide variety of ethnic backgrounds, races, and gender identities.
SOCIAL MEDIA
WEB APPLICATION